Fall really has so many amazing foods to offer, one of those is beets. For some reason, beets hold a special place in my heart. I grew up the daughter of a true New Englander, my dad's family grew all their own food on a little farmette.  I love hearing the stories he tells about their root cellar with a dirt floor and the barrels and barrels of garden produce they had during the winter. One of his favorite fall foods is beets. I must have inherited his passion for beets as well because they just tickle me pink (actually more like a purple red….).
I've been making this spiced apple & beet slaw for a few years now and each fall I anticipate it with fervor. This year I had to tweak the recipe a bit to make it work as a true anaerobic ferment, since learning how this past year. It's super simple to make and does not take long at all to ferment. I absolutely love the slight sweet crispness paired with just enough spice to really compliment the beets.  I am sharing this recipe just in time for Thanksgiving. I'll be serving it as a condiment with our Thanksgiving feast!
Spiced Apple & Beet Slaw
Ingredients
1 small bunch of beets, greens removed (preferably a week prior to fermenting)
3 small to medium beets, peeled
3 medium apples, any kind you like preferably a sweeter apple
Zest of 1 orange (optional)
1-inch knob of ginger
Pinch of allspice
Pinch of cloves
2 star anise (optional)
5 grams of fine grind Himalayan Pink salt (5 grams if your mixture equals 4 cups)
Instructions
You will need a .75 liter Pickl-It (Depending on the size of your beets, you may need a 1-liter. Also go with 5 grams of salt for every 4 cups of loosely packed veggies before the salt is added).
Shred the beets and apples. Grate the ginger on a microplane zester.
In a small bowl toss this mixture with the spices and zest if using.
Toss with the salt and let sit for about 20 - 30 minutes to allow the salt to pull moisture out of the beets to make a brine.
Place the beet mixture into your Pickl-It, pressing down to keep the brine above the mixture.
If using the star anise, add them in while packing your jar. You will simply remove them when you start to consume the slaw.
Clamp the lid down and add water to the fill line in your airlock.
Place in a dark cupboard and let ferment for 12-18 hours.
Remove airlock, place in the plug-r and refrigerate.
The slaw is ready to eat at this point but gets better if left to sit a few days.
After I remove the leaves, I leave about 1/2 inch of the stem intact. I grate the top of the beet as well when I make this recipe. The top contains the most nutrients in the beet, specifically betaine a nutrient helpful in fat digestion. See photo below.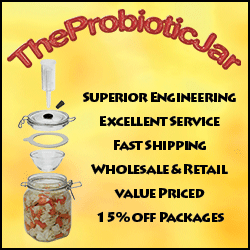 Subscribe to Divine Health
From The Inside Out
Join our weekly newsletter and get
our 52 Healthy Habits to Take Care
of Your Body FREE!