I asked my good friend Lisa to join me today and share her recipe for Fermented Spanish Black Radish. I wanted to be able to share another healthy way to consume this super food after Mandy's post last week on how amazingly powerful Spanish black radish truly is. Mandy shared some great information in her post 'The Key To Successful Healing.'  Spanish Black Radish has been used for centuries as a medicinal food. I prefer to let my food be my medicine, don't you? Now here's Lisa with more great info. about this super food, fermenting and a recipe……
Properly fermented foods are incredibly delicious and healing. Spanish Black Radish is in the same family as broccoli and kale, known as the Brassica family. It's rich in vitamin C, and cruciferous vegetables like Spanish Black Radish, protect against free radicals and strengthen immunity and digestion. In India, this supplement is called "Mooli," and it is used to encourage a healthy liver.
Fermented black radish is even more healing and easier to digest than raw or cooked. The fermentation process increases the nutrient bio-availability and adds the benefit of delivering probiotics at the same time. Like with all ferments, slowly add these foods to your diet in small amounts to see how well you tolerate them.
I cover all the ins and outs in my book, Lisa's Counter Culture: Pickles and Other Well-Bred Foods. This is a concise guide to getting you started on a healing fermented foods journey including the ferment companions to round out your meal.
So Why Ferment?
Because you are made mostly of bacteria and there is a constant battle of good versus bad bacteria, ferments give you an edge over the bad by repopulating the good flora into your body. At least 70% of your body's immune function is a result of a healthy gastrointestinal tract. But we often tax our systems with antibiotics, processed foods, chronic stress, dietary toxins (like wheat and seed oils), and numerous other factors that deplete our body's immune function. That's why fermented foods are so beneficial in restoring gut health.
Living fermented foods are likely more effective than probiotic supplements. Supplements undergo a vigorous manufacturaing process, so there is no guarnatee that the beneficial bacteria will survive before you get them into your system. Living ferments are powerful, so start slowly and with small amounts to avoid die off (page 18 of my book).
It's easy to incorporate ferments into your daily routine. Condiments like fermented mayonnaise, chutneys, salsas and krauts are easy to prepare and simple to add to meals. Fermented beverages are a delicious low or no sugar addition. My family loves having kombucha, fermented lemonade, or beet kvass with out meals.
I hope that I have inspired you to add fermented foods to your daily diet. I find that they make our meals more enjoyable and reduce the cravings for carbohydrates and sugar. You will also discover that young children do enjoy tangy fermented foods. I have enjoyed watching children taste fermented green beans, carrots or even pickle kraut for the first time and request more. This makes my heart swell.
Fermented Spanish Black Radish
Ingredients
1.5 Liter Probiotic Jar
Spanish Black Radish cleaned and sliced thin to fill jar to shoulder (about 4 to 5 large radishes)
2% brine (19 grams of salt per quart of water)
Instructions
Pack the radish slices into the jar so that they fit in snugly and are below the collar of the jar.
Add the brine to cover. The top of the liquid should be at least 1 inch below the top of the jar or to the collar of the jar.
Add the Brine Bowl and make sure the radish is submerged.
Close the lid and add the airlock. Ferment at room temperature (mid70sF), covered, for 6 to 9 days before transferring to the fridge. Be sure to taste first and see if it needs a few more days on the counter.
Radishes may take a few weeks to mellow and cure in cold storage. These do have a long shelf life when properly stored.
*Note: If you are using a fine grind Himalayan pink salt it's about 5 grams per teaspoon of salt to make the 2% brine.
Feeling run down, under the weather or stuck in your health right now? Try adding Spanish black radishes to your daily regime for at least a week to two weeks. You'll support lymphatic drainage and aid your liver's detox pathways! This root can be hard to find, once you find a source of it grab it and ferment a bunch!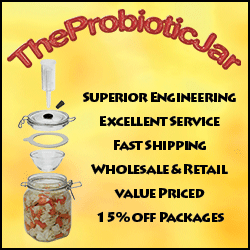 Lisa, founder of Lisa's Counter Culture, is passionate about "real food" and loves being able to share her recipes and techniques for creating nourishing and traditional food. She is especially interested and skilled in fermentation and can go on for hours on all the crazy and fun things you can do with ferments while supporting your health and wellness. Lisa has spent over 10 years consumed with researching and experimenting with traditional food preparation.
Lisa's Counter Culture offers focused hands-on workshops and coaching. Lisa finds deep satisfaction in connecting people to improved nutrition and lifestyle changes, as well as community resources and healers to aid in their relief of such ailments.
You can follow Lisa's Counter Culture several ways:
Recently revised, Lisa's eBook has lots of great real food recipes with the idea of nutrient dense healing foods in mind. I am so
glad to have this book as a resource as I navigate my way through finding recipes that work for anaerobic fermentation, as well as having tips/guidelines to follow while I revamp my old recipes and create new ones.
This is the best guide I know of to help you as you navigate your way through the art of fermentation.
I can't say enough good things about this eBook! Click on the banner below to get a copy!
Lisa's eBook has lots of great real food recipes with the idea of nutrient dense healing foods in mind. I am so glad to have this book as a resource as I navigate my way through finding recipes that work for anaerobic fermentation, as well as having tips/guidelines to follow while I revamp my old recipes and create new ones. I can't say enough good things about this eBook! Click on the banner below to pick up your copy! …Read More at
divinehealthfromtheinsideout.com/2014/02/two-reasons-why-you-should-make-homemade-mayonnaise-plus-recipe/
© Divine Health